Hello Ethan, tell us about your role at Microfluidics
As the Director of Aftermarket, I work with our customers after they have made their purchase of a Microfluidizer® processor. My central focus is ensuring our customers are getting the optimal results from their equipment. I strongly believe that since our customers have made an investment in our products that we owe it to them to make an investment in their success. As Aftermarket Director, I manage a team of dedicated customer representatives and field technicians whose sole purpose is to ensure that our customers have the highest level of support to achieve their application goals. We work with many world-class companies that are achieving some extraordinary breakthroughs in the fields of pharmaceuticals, nutraceuticals, and material science applications. It is a privilege to be a part of their journey and we take that responsibility very seriously.
The Aftermarket team handles all order entry, warranty support, technical support, onsite and virtual troubleshooting as well as developing bespoke maintenance plans for customers that capture the right balance of maximized uptime, mitigated downtime, and overall cost of ownership.
There are three key aspects in making sure our processors work successfully for our customers - technical support, customer service and parts and spare recommendations/fulfillment.
Our customers can contact us at any time if they are experiencing issues or questions with their processors or results and we will do our best to talk them through the measures needed to correct the situation.

We offer technicians, in the field, who will go to the place of operation and service the machine.

We advise on general upkeep and replacement parts, so our machine does not experience any unnecessary problems.
Our team takes a proactive approach to customer service. We want to address issues before they become problems because we realize that production shutdowns are costly and disruptive. Therefore, we are not only quick in responding, but we also advise our customers of essential monitoring techniques we have in place to avoid equipment issues.
How Did Covid-19 Affect the Aftermarket Team?
This past year was an interesting one for our company and especially for my Aftermarket team. Our processors are used in many important applications which are vital in such aspects as diagnostic testing, vaccine adjuvants and active pharmaceutical ingredients. Microfluidizer® processors are used by some of the largest global pharmaceutical companies and they expect the same commitment, from us to their mission as they give to their work. As R&D and pharmaceutical companies were working in overdrive to address the challenges of combatting Covid-19, my team was stepping up so these same companies could produce at their highest levels and without manufacturing interruptions. I was extremely proud of my team's effort to our customers so they could achieve their goals.
As pharmaceutical giants shifted their focus to address the many medical demands of Covid-19, my team did the same. In the earlier days of the pandemic, companies were changing their R&D to focus on treatments for the disease and accurate diagnostic testing. Microfluidic equipment is very effective in important applications, such as cell disruption, which are necessary for achieving these goals. My team worked tirelessly to educate and train pharmaceutical staff who were new to our equipment and also made sure companies were able to seamlessly go from research and development to production whilst obtaining repeatable results. As other manufacturing companies were shutting down due to the pandemic, I was extremely proud of the work my team did to prioritize their response to Covid-19 activities while still managing our other customers' demands. When faced with a global pandemic, my team did everything in its ability to make sure that the companies that needed our service the most were not disappointed.
Any concerns that you are seeing with our customers which we can help with?
Our Aftermarket team is very proactive in our approach. When a piece of equipment is initially purchased, we encourage our customers to educate themselves about the machine, monitor the production levels, and familiarize themselves with its components. Therefore, if there is a future concern, our customer can clearly and efficiently identify and communicate questions and we are more able to resolve the issue quickly.
The best piece of advice we give our customers is to have a supply of commonly needed spare parts on hand AND enroll in our preventive maintenance program. Normal wear and tear are expected on our parts and as our equipment is used, parts will need to be replaced. However, waiting to order a part once it has worn out can create unnecessary downtime which can be costly to production but is avoidable. By simply maintaining a backup of necessary parts, the machine can operate with little or no interruption.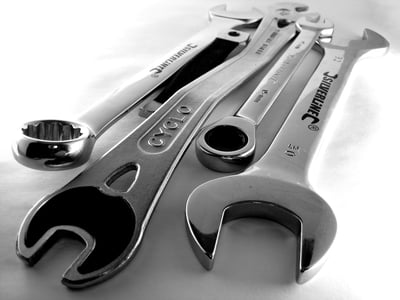 We also offer a preventative maintenance plan in which we examine the machine thoroughly, on-site, to ensure it is running properly and efficiently. We will often replace parts that the customer is unaware of but is showing signs of early wear. This on-site visit gives us an opportunity to educate and train new customer staff, provide updates, answer questions and get an understanding of how the machine is being used. This service not only prolongs the life of the machine but it also gives our team a chance to examine production levels and on occasion provide advice about scale-up options for higher volumes and educate our customers of critical factors to consider as they grow their business. This service allows our customers an opportunity to reevaluate their production expectations and reexamine if their production volumes have changed since their original purchase expectations. Oftentimes, our customers will realize during this visit that their needs have changed and will inquire about scaling-up to a Microfluidizer® processor which can handle their larger demands.
Our Aftermarket team is very upfront with our customers and we do our best to make our customers aware of conditions that may affect their processing. Currently, due to the pandemic, our department has noticed that there are shortages in materials and delays in shipping times which are impacting parts and spares beyond our control. Specifically, we've seen global supply chain shortages of elastomers, electrical components, and other commodity items that we often take for granted as always being readily available. We've worked with our customers and our own supply chain team to identify critical wear parts that could be affected by these shortages to prevent unnecessary downtime and keep our customers processing throughout these trying times. We have always encouraged our customers to have spare parts but we are now recommending our customers plan with longer time frames in mind because we want to make sure our customers don't lose critical production time waiting for inventory. We have done our best to update our customers of these issues so it does not impact their performance. From a customer service perspective, we want to make sure that our customers are fully aware of any obstacles which may impact their processing-whether it is within or out of our control.
What advice would you give prospective customers looking for high shear processors?
When working with high shear processors you want to make sure you purchase a quality product. We work with many companies across many industries and they all have the same focus - process and production. If you buy a quality product, you should expect a high level of production output. However, when there is a problem and production stops, this can mean missed deadlines and lost revenue for a company. Therefore, it is critical to research the equipment that is being considered for purchase. What materials are used to manufacture the machine, how are the results measured and are they repeatable, how long has the company been in business and what is the company's reputation for both its product and its customer service? Also does the company look beyond the current conditions and beyond its scope?
Think long-term about your duty cycle and production needs before you consider purchasing. We have customers buying our low-cost lab machines for research and development, but then trying to utilize that same machine for full-scale production to the detriment of them and their customers. Scalability of a process is a big picture discussion. Talk to us about what your end goals are, what does the timeline looks like, and so on. We want our customers to be successful and will help you create a plan. Every machine sold is a partnership.
How Does Your Team Incorporate Customer Obsession?
At Microfluidics, we believe in Customer Obsession. Our lab engineers work with our customers to understand the desired results and how our technology can provide these. Our machine engineers work diligently to understand each customers' unique specifications and requirements and what features and designs will accomplish these goals. Our Aftermarket team knows that the customer's relationship doesn't stop at installation. Once the purchase has been made, the customer should continue to expect the same level of attention as when the order was being placed.
Microfluidics focuses on providing a short lead time in response to our customer's concerns and questions. By starting with a superior product, problems should be minimal - however when there is a problem, the expectation should always be for a responsive reply. Customer obsession to us is about maximizing uptime and minimizing downtime. Arming our customers with inventories of parts and a proactive maintenance SOP (standard operating procedure) to maximize their uptime is a priority. We really want our customers to be capable and confident to work on their equipment themselves. We have a best-in-class service team which means our customers get best-in-class training.
Due to the intense duty cycle of any high shear processing equipment, minor processing missteps can have a large impact on wearable parts. As an example, air bubbles can enter the high-pressure system and deteriorate the wearable components at an accelerated rate. This situation usually requires an on-site visit, by either myself or a field member of my team, to the customer's facility. Once there, we inspect the entire system, review upstream and downstream processes, evaluate equipment configurations, and examine the operator's use of the machine. This thorough examination, of all the small missteps, will determine the problem and enable us to swiftly remedy the situation. We understand that our quick resolution, when needed the most, is ultimately what will define us as a company to our customers.
Another example of our customer obsession is helping our customers who may think there is a problem with our equipment only to find the problem lies somewhere upstream or downstream. We had one such case when a mixer in the feed tank ran at a too high RPM causing foam to feed into the machine and deteriorate the high-pressure parts. An excessive length of piping at the outlet of the machine created too much resistance and caused the relief valve of the heat exchanger to open. By simply reminding the customer to rebuild the check valves regularly, we were able to save the customer $100,000 a year on parts because faulty check valves were causing cavitation. When you are considering making a significant purchase, it's important to work with a company that considers your entire operations and not just the machine itself.
Why would customers choose us?
The true difference with Microfluidics is the dedication of the people. Each team works together to make sure that each purchase meets our customers' expectations. Our equipment is complex and as a company, we do everything we can to deliver on our promise. Our engineering team truly knows the questions to ask so our clients get the results they desire. Our engineers make sure our customers are confident that our equipment is compliant with all required regulations. Our orders are tracked and monitored so every step is updated to avoid problems. Installation and testing are performed to ensure our equipment processes are at their highest levels.
Our customers choose Microfluidizer® processors for an array of reasons. We are a well-known brand in the industry and have been successfully operating for years and with the financial backing of IDEX, our customers trust that we will be around for many more years. We have a best-in-class lab and applications team with vast experience. Our equipment is tested and proven on many applications and we have productive installations throughout the world. We have an extensive field service team that reaches all points of the globe comfortably with a capacity to respond quickly to customer emergencies. Anywhere in the world, a Microfluidizer® processor is sold, we are happy and available to service it. Whether our equipment is used for liposomes, cellulose, vaccines, solid particles size reduction, deagglomeration, or any other nanotechnology challenge, we find the optimal balance of process results, reliability and cost of ownership for your equipment.
Because of our commitment, every processor bought after the initial purchase by our customer is primarily sold based on our clients' relationship with their field service and customer service team and their interactions through the years with the original processor. We are proud that our customers trust us with their purchasing decision. Investing in Microfluidics technology means you will also receive a high level of support and customer service.
If you would like to find out more about the Microfluidics approach, please contact us.