Thanks to scalability, cleanability and repeatability, Microfluidizer® high shear technology has been the leader in helping clients meet their nanotechnology needs.
We are delighted to be able to share insights from David Harney, Director of Project Engineering, who has over 20 years of tenure at Microfluidics. David has spent his entire career in the process equipment business and is a member of the ASME BPE subcommittee on cell disruption, which is used as a standard for equipment design.
Hello David, can you share with us which team of products you are responsible for and any areas of specialization?
As Director of Project Engineering, my primary focus is helping our customers with pilot and production scale equipment purchases with a specialization in sanitary equipment design and control systems. This role includes working with customers on their specifications from pre-sale inquiries through to shipping and finally supporting both the customer and aftermarket team during equipment installation.
An example of my approach is when purchasing either a pilot or production scale piece of equipment, our team ensures the machine will run properly and meet all industry standards. There are a host of questions we initially ask our customers when they choose to purchase a pilot or production scale model. How will the machine be used and cleaned? Does the machine need to be sterilized? We even evaluate the materials we use to make the machine because it's important to use materials that will not affect the final product. Sanitary machine design considerations must also include clean-in-place (CIP), steam-in-place (SIP) and compliance with the American Society of Mechanical Engineers' BPE standards.
Not only is sanitation design a primary factor in production decisions but so is the control system. Control systems are important in measuring the conditions of the machine and the conditions of production. Therefore, it's imperative to determine if the customer needs a simple system for reading temperatures and pressures or a more complex system for compliance that incorporates electronic signatures, data recordings and batch records.
What is your approach when meeting with a new client?
To determine how our equipment will fit into our customers' plans, it's important to listen to their specific needs, such as:
Is cleanability a factor and do we need to help them with Clean-In-Place?
How are we addressing communication between our machine and their plant data system?
Do we have a control system in place that they need and is it compatible to meet all compliance requirements?
In meeting new customers, my goal is not only to listen to what they have to say but also asking the right questions from the information they provide.
How do you deliver customer obsession?
Delivering customer obsession begins by working with customers on their user requirement specifications (URS) to get a true understanding of how we can meet their needs and requirement specifications. Next, we review the specifications and do our best to meet those requirements.
It's important that we explain how our machine is designed and how we can make minor configuration modifications to meet their requirements. We explain the details and features of our equipment, so our customers have a comfortable understanding of our equipment and its operation.
What typical questions are you asked by prospective customers?
Our prospective customers have many questions when they are considering purchasing our equipment and we encourage them to be extremely thorough so we can meet their needs. Typical questions fall within the following categories, machine operating conditions, machine design features, testing and documentation, and include:
Machine Operating Conditions Typical questions focus on whether our machine can produce the results our customer wants. Will our processor be able to meet pressure, temperature and flow rate requirements? What utilities (electric, cooling water, pneumatic) are needed for operation and what is the space requirement needed for housing our processor?
Machine Design Features These questions are extensive and can range from modes of operation, cleanability, sanitation to our (stainless-steel) construction. We need to answer mechanical specifics such as the types of instruments used, valving design, product contact materials, surface finishes, welding, maintenance needs and training. Other machine design features will also focus on electrical and software requirements such as enclosure types, instrumentation interface with controls and operator interfaces, exporting and retaining data and providing 21 CFR, Part 11 compliance.
Testing Our customers are interested in all Factory Acceptance Testing (FAT) details, machine performance testing and documentation review. We also get asked about our installation, SAT (Site Acceptance Test), onsite training in operation and maintenance and our aftermarket support services.
Documentation Provided We get many questions in reference to the documentation provided and its content. Customers want to make sure we include detailed information on drawings, product contact parts, calibrations, manuals, catalogue data, spare parts, tools and testing results.
Again, our customers are very knowledgeable about their needs. The more questions they ask, the more informed purchasing decision they can make. Our goal is to make sure they achieve their goal and are confident with their decision.
Concerns that you are seeing with our customers which we can help solve.
We see a lot of companies moving from R&D lab scale models to production machines and we can help them with their selection of the right piece of equipment for their application, especially with the design of the equipment and the requirements needed. Our customers are looking to obtain repeatable results from a benchtop, in the lab, to their production facility.

Microfluidics' approach to high shear equipment incorporates the Interaction Chamber™ which can easily scale-up from small benchtop machines to larger production machines. We use multi-slot technology which incorporates additional channels of the same size thereby ensuring all of the product goes through the same type of processing. Our competitors' technology incorporates channel size changes with each machine so as the machine gets larger, the channel size gets larger and the end results will vary.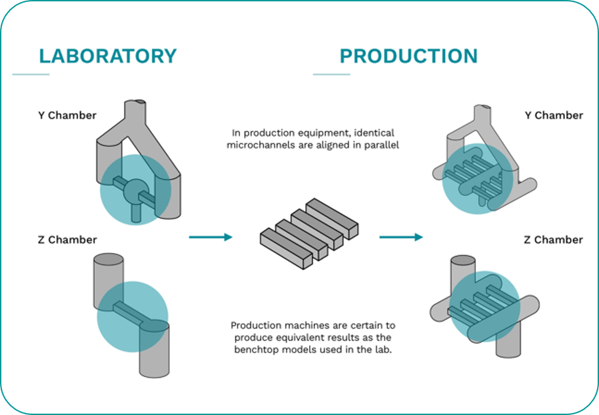 With nanotechnology, whether it is for drug manufacturing, deagglomeration or cell disruption, nano sized particles are looking for consistency with particle size between the entire product run for a tight distribution. You want repeatable results all the time from each batch and each machine.
How do you solve customer problems?
We were one of the first to hear about USP class VI requirements that would be affecting our industry. To become familiar with these requirements, I researched the US Pharmacopeia to get a clear understanding of how this change would affect our supply base. Most of our vendors were unfamiliar with this new requirement. Therefore, we needed to explain what the needs were, how they would affect testing, and then continue to demand these improvements and modifications from our suppliers so we met both customer and industry needs. The engineering team, at Microfluidics, prides itself on staying current on regulations and being proactive in adapting new requirements so our customers don't have regulatory issues.
Another issue we address with our customers is mobility for their production scale equipment. Many of our customers have clean rooms of limited room sizes. Often these customers run campaigns using different pieces of equipment and need their equipment to be portable so it can be moved in and out of a workspace quickly and easily. With our small lab scale machines, mobility is straightforward. The lab scale models aren't as heavy or large as pilot and production-scale machines. However, there was a challenge in how to make larger machines mobile. While putting the equipment on wheels seems like an ideal solution, unfortunately there is more to consider. It's important to take in factors such as doorways, height restrictions, hallway access, machine configuration and available utilities. We need to know where the equipment will be moved and how often. We have configured our equipment with these factors in mind. With years of experience in the field, we know to ask the questions our customers may not have even thought to consider.
Both of these examples illustrate our thoroughness and experience in production scale equipment. Our customers are looking to us for expertise and we are committed to stay ahead of regulation updates and equipment challenges.
Advice you would give for prospective customers looking for high shear processors.
Ask questions and be informed.
Ask your supplier, Microfluidics or others, to describe the equipment in extensive detail.
Ask if they are compliant to the different engineering/industry standards.
Ask what experience and how many installations they have.
Listen for improvements over what you're asking of them.
Again, and most important, ask questions.
Why would our customers choose Microfluidics?
Microfluidics offers quality of product and that includes both the quality of the product that is produced and the quality of our equipment that we produce. The results that our customers achieve using our equipment are excellent, especially in the pharmaceutical field which we have models specifically designed to meet their needs. Today, with our machine systems, we fit well into clean rooms and that is because we are constantly listening to our customers and improving our product to better meet their needs. We've been in business for well over 35 years. We service globally and have equipment installed worldwide.