Bridging the gap between the lab and production the M815 processor enables users to replicate operating conditions as each batch scales up.
Like all Microfluidizer® processors, the M815 utilizes the fixed-geometry Interaction ChamberTM and constant pressure pumping system which enables users to achieve small particle sizes with uniform, tight particle size distribution with scale up guaranteed.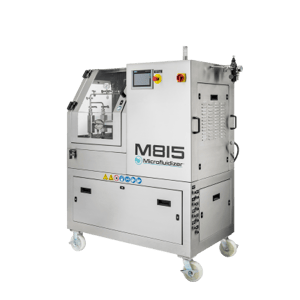 The M815 models are designed to span the gap between the lab scale (M110P) and production scale (M700 series) models, and they are ideal for manufacturing batches in the range of 5L-300L.
It achieves product flow rates up to 1,000 mL/min at 689-2068 bar (10,000-30,000 psi).
This technology enables easy monitoring of key process parameters and facilitates the safe processing of thermally sensitive materials. As a self-contained unit, mounted on locking casters for portability, it features accessible maintenance points for easy upkeep.