Like all production scale processors, the M815 utilizes Microfluidizer® proprietary high shear fluid processing technology for uniform droplet and particle size reduction, which enables the production of stable nanoemulsions, nanosuspensions, liposomes and the nanoencapsulation of actives. Additionally, Microfluidizer® technology offers the most efficient method for disruption of yeast, E. coli, plant and mammalian cells.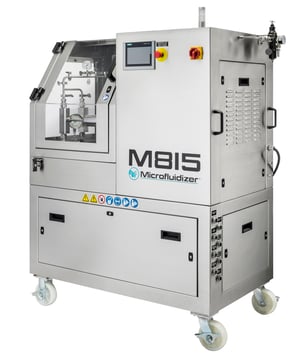 Like all Microfluidizer® processors, the M815 utilizes the fixed-geometry interaction chamber and constant pressure pumping system. This technology allows users to achieve smaller particle sizes — with more uniform distribution and scaleup guaranteed (both from lab scale and to larger scale units) — than can be obtained with other methods.
The M815 models were designed to bridge the gap between the lab scale (M-110EH) and production scale (M-700 series) models, and they are ideal for manufacturing batches in the range of 100L-300L.