The most common technique is demonstrated here in this 5 step process:
Step 1: The phospholipid, carrier oil and any hydrophobic actives are dissolved in a solvent. This solvent is then removed via evaporation - either by a rotor-stator at the lab-scale or by spray-drying on the production scale.
Steps 2 and 3: A buffer is added to the resulting precipitate from Step 1 and warmed and vortexed to hydrate the phospholipids.
Step 4: The antigen (or other hydrophilic actives) is added to the solution whereby large multi-layer vesicles (MLVs) are generated.
Step 5: The MLVs are processed through a Microfluidizer® Processor to reduce their size to small uni-lamellar vesicles.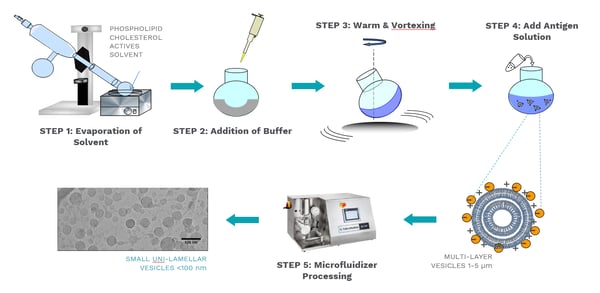 Ref: University of Strathclyde research
There have been recent process improvements to this classical method. If the carrier oil is a liquid or can melt in water, it is not necessary to create the solid solution of phospholipids and carrier oil. These ingredients can simply be mixed together and added to the water phase to create a pre-mix prior to processing with the Microfluidizer® processor.
Furthermore, the addition of the hydrophilic antigens downstream of the LNP creation works well if the antigens can adsorb to the surface of the LNPs.
There are other methods to create LNPs using solvent precipitation methods which are suitable only for small scale production. Microfluidics can help transfer technology from solvent precipitation methods to scalable cGMP proven production methods.
If you would like to explore whether Microfluidizer® technology is the right solution for your vaccine development and production needs - why not come into our labs and talk to our Application Specialists - schedule a lab test today.