It's important to select the right method for cell disruption early in your vaccine development process.
Using the correct method from the start will support your project's viability and value through to production: efficient, easy-to-scale processes are to be most favored by manufacturers.
Existing methods for protein recovery are not without drawbacks. Conventional methods such as bead milling, mortar and pestle, sonication, chemical lysis, and French press, leave product vulnerable to:
In addition, many cell disruption techniques, such as freeze-thawing, or mortar and pestle, are simply not practical to transfer up from the lab to production scale.
Have you considered processing with Microfluidizer® technology as an alternative?
High pressure homogenizing technology offers a value-adding and versatile cell disruption method, with numerous benefits when compared with existing lab techniques.
Industry-leading cell disruption with Microfluidizer® technology
Microfluidizer® technology is built on the principle of efficient, consistent processing.
The unique fixed-geometry Interaction Chambers™ on Microfluidizer® processors provide the means for cell disruption. In these chambers cells are exposed to extreme shear rates from constant pressure conditions.
This means that unlike other cell disruption methods, each microliter passing through the Microfluidizer® processor is guaranteed to receive the exact same treatment, leading to more uniform and gentle cell breakages, greater product recovery and easier downstream processing.
We're proud of our equipment: our best-in-class machines provide unparalleled cell disruption potential, are versatile, and capable of rupturing many cell types. From soft mammalian cells to bacterial cells, and even the most difficult extractions like complex yeast cells, Microfluidizers® processors consistently outperform traditional methods.
Read more about how Microfluidizers® technology rupture different cell types in the downloadable applications note at the end of this article. For further resources and information about Cell Disruption please click here.
Benefits of Microfluidizer® Technology for Cell Disruption
Microfluidizer® processors give you the control you need to reach your desired product attributes during cell disruption.
The constant pressure in the Interaction Chambers™ can be adjusted to your application, meaning that cells ruptured with Microfluidizer® technology are less vulnerable to product loss.
The Interaction Chambers™ also yield uniform processing, allowing for improved downstream filtration.
In addition to the above benefits, further advantages of using Microfluidizer® processors include:
Higher rupture rates while using less time and energy

Close to 100% protein and enzyme release in E.coli cells

cGMP compliance

Simple, linear scalability of your production process
Simply put, the 6 studies in our applications note repeatedly highlight Microfluidizer® technology as the superior option for cell disruption, with the added benefit of being easily scalable to larger batch sizes.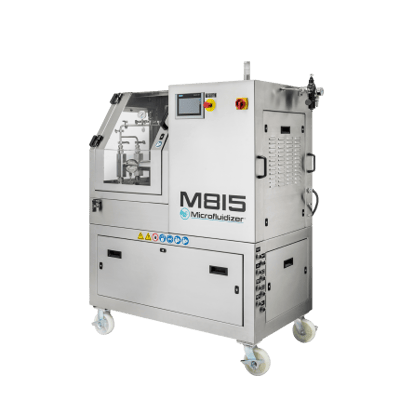 Learn more about cell disruption with Microfluidics
Our downloadable applications note on cell disruption covers six peer-reviewed studies which test Microfluidizer® processors against other cell disruption methods.
These studies focus on diverse target parameters including viscosity, filtration, protein release, temperature, and particle size distribution, with Microfluidics' technical excellence consistently outperforming other methods.
Download the PDF today to discover how to incorporate Microfluidizer® technology into your production process.