Nanoparticle albumin bound (nab) technology is an important carrier for delivering low-aqueous solubility, high-toxicity therapeutic agents with fewer side effects than traditional systems, which makes it ideally suited for use in chemotherapy medication.
The first FDA approved formulation of nab drug delivery technology is nanoparticle albumin bound - paclitaxel. Commercially manufactured under the pharmaceutical name of Abraxane®, nab-paclitaxel is an effective chemotherapeutic used in the treatment of advanced and spreading pancreatic cancers, metastatic breast cancers and non-small lung cancers. The active molecule, solvent-based paclitaxel, is highly toxic and causes severe side effects for patients, which can be significantly reduced by applying HSA as a carrier for drug delivery.
Human serum albumin (HSA) is a beneficial material for nanoparticle (NP) preparation due to its improved biocompatibility and biodegradability, non-toxicity and non-immunogenicity properties. Nab-paclitaxel is formulated by encapsulating the paclitaxel molecule inside the naturally occurring human serum albumin (HSA).
Biotest, a German leader supplying plasma protein products and biotherapeutic drugs, recently published their findings, "Human Serum Albumin in nab-technology." This white paper evaluated the processability and properties of nab-paclitaxel using the Biotest human serum albumin (HSA) and comparing it to the commercially available recombinant HSA. The Biotest nab-paclitaxel was prepared using one of our Microfluidics lab-scale models - a high-shear Microfluidizer® LM20 processor. During the testing, it was demonstrated that the Biotest HSA showed similar results to those of the currently available commercial product. Both HSA sources were individually analyzed and compared to one another on the following criteria: particle size and distribution, zeta potential, encapsulation efficiency and loading capacity.
Study Results
The results indicate that:
For particle size and particle size distribution, both the Biotest HSA and the recombinant HSA received similar results, with each HSA source achieving nanoparticles in the approximate size range of 130-140 nm, which is similar to the commercial product, Abraxane, with a narrow particle size distribution.
The zeta potential, for both HSA sources, measured in the range of moderate colloidal stability (i.e., 10-20 mV).
Both Biotest and the recombinant HSA showed a paclitaxel encapsulation efficiency around 98% and a loading capacity of 9%.
For AFM imaging both Biotest HSA and recombinant HSA had similar particle sizes and morphology.
The full study outcomes are described in the Microfluidics' Application Note and the Biotest study, which can be downloaded here.
Based on the outcome of this study, the Biotest HSA has been proven to be an excellent material to be applied for the production of nab-paclitaxel. Dr. Liye Maeyama, Global Senior Project Manager Albumin at Biotest AG, spearheaded this study and noted the significance of the results by commenting:
"There is a large demand for nab-paclitaxel worldwide to treat various cancers as of its high efficacy, reduced side effects and targeted delivery of paclitaxel to the tumor. 478 clinical trials involving nab-paclitaxel are running or planned worldwide, targeting gastric, pancreatic and lung and other forms of cancer. Our aim was to show that Biotest HSA achieves similar results in producing nab-paclitaxel as the recombinant HSA, which is chemically defined, while being more economical.
For over 70 years, Biotest has specialized in the development and production of vital medicines purified from human plasma. Biotest HSA is manufactured in Germany in a GMP environment according to the European Medicines Agency (EMA) requirements. Plasma sourcing and testing follows the processes defined in Biotest's approved Plasma Master File, subject to annual re-certification by the EMA. Biotest adheres to the comprehensive standards defined by the international quality program QSEAL of the Plasma Protein Therapeutics Association (PPTA), including donor qualification, viral marker alert limits, inventory hold, extended NAT (Nucleic Acid Amplification Technique) testing and look-back procedures.
Furthermore, Biotest has conducted analytical investigations of commercially available HSA with the University of Frankfurt, Fraunhofer Institute Germany, and the University of Graz. The data show that Biotest HSA has an overall high purity, with a low content of dimers and polymers (aggregates), fatty acids, and is more stable to the oxidation of Cysteine 34, all of which ensure a good binding of paclitaxel and therefore a high quality nab-paclitaxel.
Biotest chose RCPE, with high expertise in nanoencapsulation technology, to generate the nab-paclitaxel data. RCPE experts recommended the use of a Microfluidizer® LM20 processor to achieve a mean particle size of 130 nanometers (as it is in Abraxane) with a narrow size distribution and high reproducibility. The LM20 also has the advantage of scalability, as data were produced at lab scale, they can be directly transferred to the manufacturing process."
Learn More About this Important Chemotherapy Delivery System
To learn more about this important application and the impact it has in chemotherapy delivery, watch our webinar:
Comparison of Biotest HSA and Recombinant HSA for the Preparation of Nano Albumin Bound (nab)-Paclitaxel using Microfluidizer® Technology
Our presenters include:
Matt Laferriere, Applications Engineer at Microfluidics International Corp.
Dr. Liye Maeyama, Global Senior Product Manager Albumin at Biotest
Dr. Carolin Tetyczka, Senior Scientist at RCPE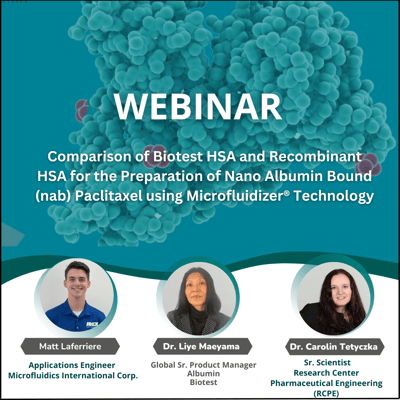 During this webinar session, our speakers presented the processability and properties of nab-paclitaxel using Biotest HSA in comparison to a commercially available recombinant HSA. In addition, quality parameters (including content of small peptides, fatty acids, aggregates, binding characteristics of site II and the redox state in terms of cysteine-34 of Biotest HSA and other commercially available HSA solutions) were discussed. A question-and-answer session was held at the end of this webinar to provide specific points of interest.