The Microfluidics team recently participated in the RNA Therapeutics & Delivery U.S. Congress, in Boston, MA. This two-day event brought together leading speakers who addressed novel RNA structures, delivery strategies, and cutting-edge presentations on the latest innovations in RNA formulation & clinical development.
Our team was on hand to learn more about collaborative solutions to RNA therapeutic discovery & modalities and hear about the latest advancements in mRNA vaccines, developing oligo/antisense therapies & exosomes for the advanced delivery of RNA modalities.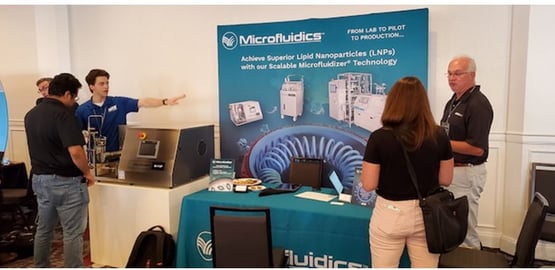 During this event, Yang Su, Ph.D. (Manager of New Technology and Applications at Microfluidics International Corporation) presented:
Microfluidizer® Technology: A cGMP Technology That Can Help with Scale Up for Both Viral and Non-viral RNA Delivery Platforms
Interest in RNA-based therapeutics and vaccines has surged in recent years. However, despite their numerous advantages and therapeutic efficacies, challenges remain in delivering RNAs safely and effectively.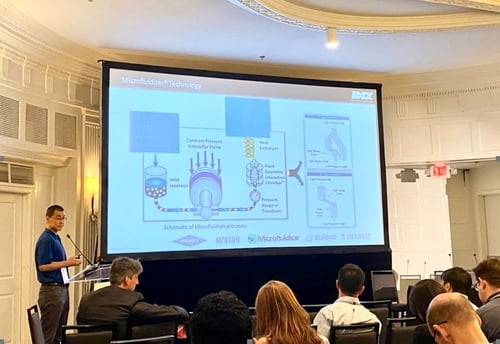 Dr. Yang Su discussed how viral and lipid-based nanoparticle non-viral vectors are proven successful delivery platforms and Microfluidizer® technology is a scalable technology that can be used in manufacturing both delivery systems.
Microfluidizer® processors have proven superior, replicated nanotechnology results. Microfluidizer® lipid nanoparticles technology is simple to use, achieves consistent particle sizes with narrow distributions, which increases product stability and improves downstream processes such as sterilization - both crucial for lab, pilot, and full-scale vaccine production.
Topics of this discussion included:
Drug delivering nanoparticles and challenges during development and manufacturing.

Overall benefits of

Microfluidizer® technology

for addressing nanotechnology applications.

Microfluidizer® technology's role in achieving repeatable, scalable results - batch-to-batch and from lab to pilot to production volumes.
You can view a recording of the presentation below:
Drug Delivery Resources
View our Resource Centre to learn more about the development and production of drug delivery using Liposomes, Lipid Nanoparticles, and Nanoparticle Albumin Bound Paclitaxel.