Microfluidics recently installed an M815 Microfluidizer® processor in India for the production of Liposomal Amphotericin B to produce emergency doses to cure mucormycosis. The installation was performed within 2 weeks of receiving the inquiry.
New cases of mucormycosis, commonly referred to as black fungus, have been on the rise in India at an alarming rate. This potentially fatal fungal infection has increased among the autoimmune compromised population, primarily COVID patients suffering from diabetes, HIV/Aids and cancer. Previously considered a common and treatable infection, black fungus has created devastation in India with many infected individuals requiring extensive medical care.1
India is recognizing that because this rise in mucormycosis coincides with the second outbreak of COVID it may be linked to the high doses of steroids that were used to treat Covid in the first wave. The corticosteroid, anti-inflammatory drugs used to combat and suppress the immune system during COVID have left these individuals immunocompromised and susceptible to mucormycosis.
What is Mucormycosis?
Mucormycosis is caused by mold and with India's tropical and humid weather, mold growth conditions are high. This fungal infection enters the body through either skin abrasions or through the airway. Covid patients on oxygen therapy and ventilators have also been at a high risk of contracting the disease. Once infected, mucormycosis can quickly spread to the sinuses, the brain and the lungs and can quickly become life-threatening. Once in the sinuses, mucormycosis attacks the tissues of the face, jaw, eyes and brain. Many patients are losing eyesight in an effort to stop the disease and prevent the infection from spreading to the brain.2
Treating Mucormycosis
The most effective medicine found to treat mucormycosis is Amphotericin B, a powerful, intravenous anti-fungal medicine. Depending on how early the diagnosis is made, treatments can require six to eight weeks of daily infusions. With widespread outbreak and scarcity of resources and medicine, India is working on overdrive to get ahead of this crisis. The Indian government is seeking avenues of not only importing the drug globally but also escalating the production of Amophotericin B locally.
Amphotericin B is manufactured in two forms either amphotericin B deoxycholate or the more preferred, liposomal amphotericin form. Considered by the medical community as a safer, more effective form carrying less side effects, liposomal amphotericin is also more expensive and less available.3
So what is a Liposome and how is it produced?
Liposomes are spherical lipid vesicle with a bi-layered membrane structure and are considered one of the most efficient drug delivery vehicles for administering nutrients and pharmaceutical drugs. Liposome drug delivery is unique because of its ability to encapsulate and deliver active ingredients to targeted areas, in this case, Amphotericin B which is formulated to enhance immunogenicity.
Production of uniform liposome particle size and distributions for therapeutic drug delivery is a challenge for pharmaceutical manufacturing due to inconsistent processing conditions of the material, causes which varying particle size results requiring multiple passes to achieve uniformity and increased waste due to additional passes needed.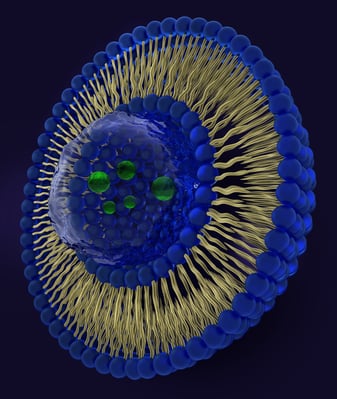 When creating nanoemulsions for intravenous therapeutics, a target nanoparticle size and narrow particle size distribution is critical for achieving consistent results. Microfluidizer® technology is compliant with cGMP regulations and has been found to be both fast and efficient in the reduction of liposome vesicles. Microfluidizer® processors deliver uniform high shear during processing. This controlled precision allows for repeatable results regardless of volume size. Microfluidizer® technology has a proven track record for making intravenous drugs as the liquid particle sizes can be reduced effectively enough to create stable nanoemulsions with not only small droplets, but also tight particle size distributions. Microfluidic also ensures an effective sterile filtration system that provides an entire particle size is achieved and not just an average particle size thereby preventing clogging and downtime.
Microfluizer's® technology features the Interaction Chamber™ which incorporates optimal temperature control and constant shear force. By aligning microchannels in parallel within the Interaction Chamber™, the entire product stream experiences identical shear, resulting in consistent quality no matter the volume. Results are replicated batch-to-batch whether it is on lab, pilot or production scale machines. This unique technology is instrumental in getting crucial therapeutics from the lab to manufacturing in the shortest time period. When large-scale pharmaceutical production volumes require fast, repeatable duplication from R & D results, Microfluidizer® technology can ensure consistent quality with every batch.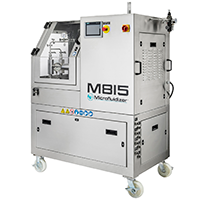 With over 90 years of nanotechnology experience, Microfluidics has helped pharmaceutical customers develop various drug delivery systems in fighting some of the worlds' most challenging medical problems. From cancers to vaccines, Microfluidizer® technology is successful in creating liposomal formulations with target particle size distributions on both the lab and production scale. As India and other countries, around the world, continue to fight against COVID19 and the devastating secondary complications, Microfluidics is proud to make a difference in helping pharmaceutical companies achieve their nanotechnology goals.
References
1India coronavirus: The patients battling deadly black fungus - BBC News
2'Black fungus' in India: What we know about the disease affecting Covid patients - CNN
3'Black fungus' treatment runs short in India as new cases of infection emerge | Live Science
Why Deadly 'Black Fungus' Is Ravaging COVID Patients in India - Scientific American
Black fungus creating a whole other emergency for Covid-stricken India