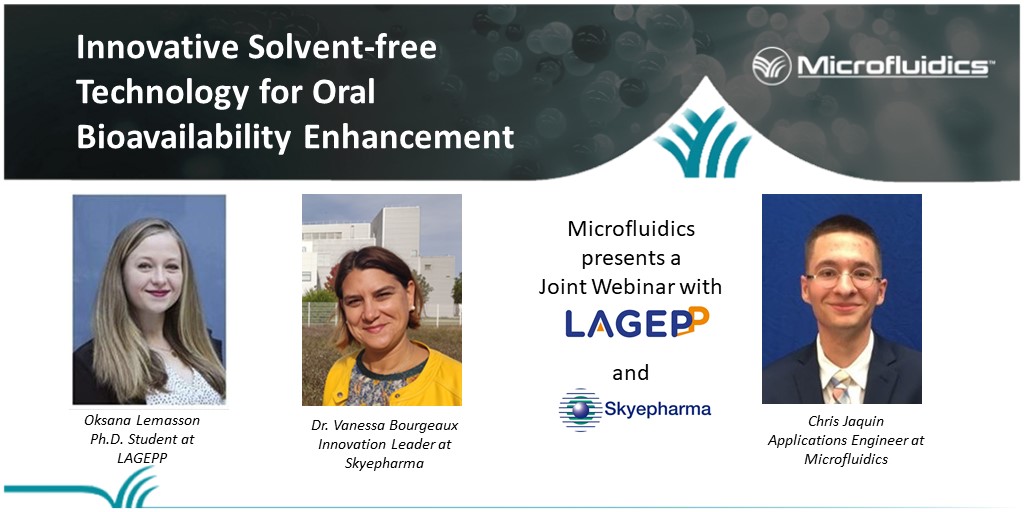 The Microfluidics team recently hosted a joint webinar with Skyepharma and LAGEPP. Presenters included Dr. Vanessa Bourgeaux, who brings 15 years of experience in R&D and pharmaceutical development, and Ph. D. student Oksana Lemasson who works on the development of lipid-based nanoparticles, from proof of concept to manufacturing process optimization in conjunction with Skyepharma.
The topic of the webinar discussed:
Innovative Solvent-free Technology for Oral Bioavailability Enhancement
This session presented how Microfluidizer® technology, through a solvent-free manufacturing process, can help solve bioavailability issues and is particularly suitable for industrial transposition.
The presentation focused on the many factors that limit the effectiveness of oral treatments, including the poor bioavailability of some Active Pharmaceutical Ingredients (API). Due to these issues, particle size reduction and nanoencapsulation of BCS class II or IV API have become innovative strategies to improve drug solubility and also control its release and avoid hepatic first-pass effects.
Topics of this discussion included:
Microfluidizer®

technology - from best-in-class results to scalability
Bioavailability challenges
Particle size reduction
Lipid-based Nanoparticles Development
Poorly-soluble API nanoencapsulation
Industrial manufacturing
Related reading: