Microfluidics International Corporation was excited to participate in-person at INTERPHEX 2022 after a nearly three-year absence. As part of IDEX MPT, Inc., Microfluidics (along with Fitzpatrick, Matcon, Quadro (Liquids / Solids) and Steridose) returned to the Javits Center, in New York City, on May 24 – 26th.
This highly anticipated event welcomed a large and engaged crowd and Microfluidics was on-hand throughout the week to answer questions and meet with customers, vendors and prospective clients – as well as participate in conference discussion sessions.
Why INTERPHEX?
Professed as the premier pharmaceutical, biotechnological, and device development/manufacturing event to "Experience Science through Commercialization", INTERPHEX attracts over 10,000 global industry professionals and over 625 leading suppliers. With a philosophy of "Learn It, Experience It, Procure It", INTERPHEX is a blend of technical conferences, exhibits, demonstrations and networking events to leverage quality, efficiency and cost-effectiveness in today's global market. This dynamic event boasts "the latest machinery, production techniques, laboratory solutions and much more."
Meet the Microfluidics Team: With a rotating team of application engineers, aftermarket managers and product and design engineers, the Microfluidics team was on-hand to showcase the LM20 – a powerful lab-scale processor. As global manufacturer leaders in high-shear fluid processors, our team of experts provided in-depth answers for achieving superior nanoemulsions, uniform particle size reduction, deagglomeration and cell disruption. Our team was able to provide insights into how Microfluidizer® technology delivers outstanding results with the highest shear rates, smallest particle size reduction, tight particle size distributions and highly efficient rupture rates with fewer passes. With cutting-edge technology and expert knowledge, the Microfluidics team was able to not only respond to enquiries regarding our lab scale capabilities but also engage in discussions regarding repeatability and scalability.
The IDEX MPT Advantage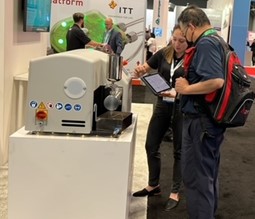 With a contemporary booth design and digital displays, the entire IDEX MPT group demonstrated state-of-the-art technology for manufacturers within the pharmaceutical and biotechnology industries. Offering an innovative range of products extending from lab-scale to pilot scale to production scale models, the IDEX MPT group showcased its ability to address both R&D & commercial solutions that meet customer-specific requirements.
Our Next Steps
Visitors to our booth over the three-day show was high, with many customers stopping by to say hello and update us on their active projects. This event provided our team opportunities to reconnect with many of our current customers in person. It also provided us a chance to engage with new contacts in the pharmaceutical and biotechnology field and discuss their specific nanotechnology application challenges.
Upon our teams return from the success of the INTERPHEX show, we look forward to following up with our new contacts and providing equipment demonstrations, product testing and validation assessments at our Boston/Westwood Application Lab. Conveniently located within the Boston area of Massachusetts, our application lab offers a range of possibilities for our customers to fulfil their application requirements. Whether visiting our site in person or not, our application lab team has rich knowledge in both equipment and applications and is available to determine the most efficient processing conditions to meet our contacts' product goals.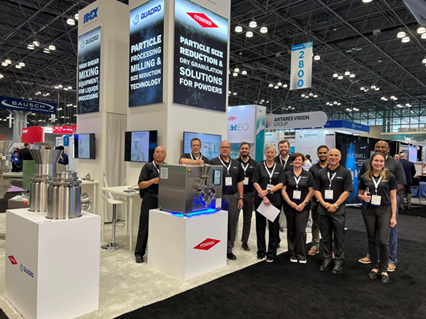 A Perspective From Those On The Front Line
Kelley McCabe, Microfluidics Product Manager commented that
"It was great being back at the Javits Center again for INTERPHEX. We had our best booth construction ever, showcasing a range of equipment from across all our business units. We enjoyed excellent engagement with potential new customers to our booth, as well as greeting existing customers".