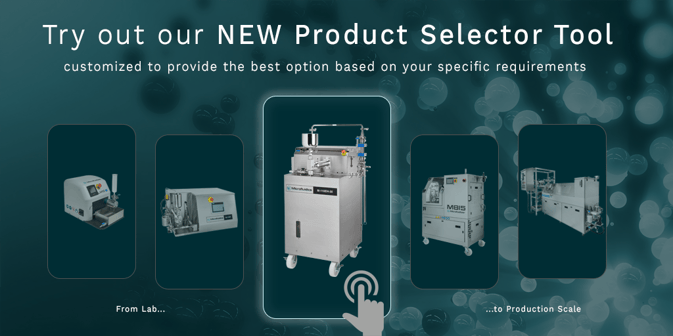 Have you tried our Microfluidizer® Processor Product Selector?
From industry to volume, to application.
Many factors contribute to selecting the best Microfluidizer® processor...so where do you begin?
Microfluidics offers a wide range of processors for various industries, applications, and volumes. However, knowing which processor is most suitable for a particular challenge can be confusing and time-consuming.
Microfluidics is proud to introduce our new Product Selector Tool.
This interactive tool takes the guesswork out of selecting a high-shear processor to suit your needs.
So How Does Our Product Selector Tool work?
By answering a few questions based on your particular needs, our selector will display the most efficient choices.
Our tool comprises of three simple questions:
What industry are you working in?
What are you manufacturing (choose the specific application)?
What is your desired volume?

After answering each question, our tool will provide the best choices for your specific objectives - tailored to your objectives. Our tool is also designed to provide reference information to support your application and manufacturing efforts.
Upon getting your results, you can either research on your own or easily arrange for one of our applications experts to discuss your results.
Whether working in research and development or global distribution, Microfluidics has a processor for your need that will efficiently achieve your nanotechnology challenge. Our machines consistently achieve superior results and are used in the production of micro-and nano-scale materials for pharmaceutical, biotech, chemical, and diverse industries. As a global leader, Microfluidics sets the standard for nanoemulsion and nanoparticle applications and has been instrumental in helping some of the world's top companies create superior products.
Whether using a lab-scale, pilot-scale, or production model, Microfluidics has a processor to meet your needs. As the leader in high-shear fluid processors, our team of experts is committed to helping you choose the most efficient product to achieve your specific goals.