Vaccine production is a complicated process.
With seemingly endless product properties to test and tweak, finding an effective formulation after weeks to years in the lab is cause for celebration.
However, as vaccine manufacturers know, success in the lab is only useful if the product can easily be transferred to small cGMP batches for clinical trials, and ultimately production scale, where potentially billions of doses would be required. It is difficult to maintain the precision of laboratory results designed for mass vaccine production, especially for the generation of lipid nanoparticles (LNPs).
Our industry leading Microfluidizer® technology is specifically designed to help vaccine manufacturers overcome the hurdle of scaling up production of successful vaccine formulations.
Microfluidizer® processors
Microfluidizer® processors are more than simply high-shear fluid processors.
Designed specifically for the pharma and biotech industries, our machines deliver Microfluidizer® technology to customers using nano-scale materials to create advanced vaccine properties.
Our suite of cGMP-compliant, best-in-class equipment is available in a range of sizes to suit any application.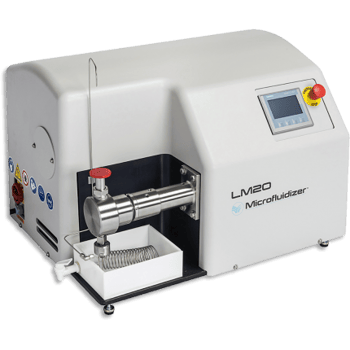 What is Microfluidizer® technology?
Microfluidizer® technology allows effective, efficient processing through fixed-geometry Interaction Chambers™; micro-channels which are the industry leading technology for achieving high and uniform shear.
Material processed through the Interaction Chamber™ passes through a constant pressure pumping system (up to 30,000psi). The high impact and shear forces from material colliding with the micro-channel walls provide superior results, including:
Consistently higher shear rates than other high-pressure homogenizers
Smaller particle size distributions achieved in fewer passes
Product with greater stability and longer shelf life, leading to less product wastage and more efficient use of raw materials
What sets Microfluidizer® processors apart from other high-shear homogenizers, though, is our guaranteed scale-up model which can expand processing quantities to pilot plant and beyond to production scale. With other traditional high-shear homogenizer, scaling up presents fresh challenges in adapting lab processes to larger-scale equipment.
With Microfluidizer® processors, this hurdle is easily overcome. To scale up, we simply increase the number of micro-channels inside our Interaction Chambers™ on the processor. This replicates the exact conditions from the lab on a larger scale, allowing manufacturers to process more material without losing product quality or increasing running costs.
Microfluidizer® processors can process up to thousands of liters per hour to the same high standard as R&D trials. Research has proven that particle size distribution achieved in batch sizes of 10 mL can be replicated at production scale with volumes of 5 L/minute or more.
Adopting Microfluidizer® technology might sound like a huge undertaking, but the versatility of our equipment means it can be adopted from any stage in the vaccine manufacturing process. Additionally we have an applications team with decades of experience developing nanotechnology applications and scaling them up to production scales.
Typical applications
Our customers use Microfluidizer® technology to produce cutting-edge vaccines with advanced technologies in adjuvant production and delivery systems.

Our expertise in reducing particles to nano level means we can support vaccine manufacturers in formulating superior timed-release products, using lipid nanoparticle and vaccine adjuvant technologies.

Other applications that Microfluidizer® processors can help you achieve include:

Nano-emulsions suitable for sterile filtration
Lipid nanoparticles with uniform particle size reduction
Cell disruption with high levels of protein recovery
Liposomes
To find out more about scaling up your vaccine production with Microfluidics, book a consultation with our technical team. You can also learn more about Technology for Scalable Vaccine Development and Production on our resources page.