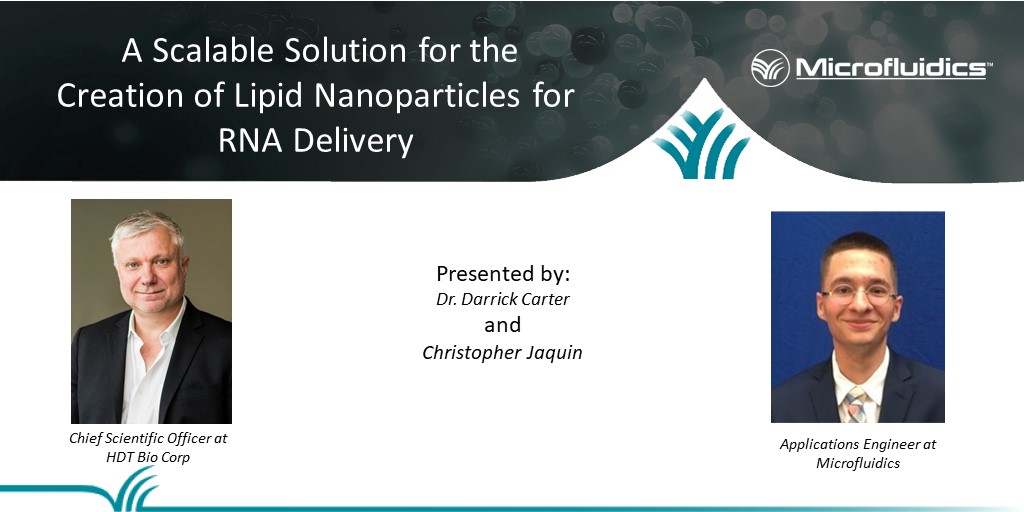 The Microfluidics team was excited to participate as joint presenters on September 22nd with the distinguished Dr. Darrick Carter, Chief Scientific Officer at HDT Bio Corp.
The topic of the webinar discussed:
A Scalable Solution for the Creation of Lipid Nanoparticles for RNA Delivery.
This session presented novel nanoparticle technologies produced with the use of a high shear Microfluidizer® processor. These carriers are scalable and can efficiently deliver RNA and DNA to cells.
The technology presented is at the forefront of COVID vaccine development and can be used for vaccine and drug delivery.
As one of the most successful delivery systems for clinical use, Lipid Nanoparticles offer better efficacy and less toxicity with a targeted delivery compared to other delivery systems. From research and development to production, delivering an RNA delivery system to achieve global commercial distribution is a critical priority for combatting Covid-19 and other medical diseases.
Topics included in this discussion are:
Overview of RNA from discovery to approval of an mRNA vaccine in 2020
LNPs, CNEs and LION™ - The limitations and advantages of major delivery systems in use for RNA
How self-amplifying RNAs work
Vaccine results with LION™, a next generation RNA delivery system
Future uses of mRNA Technology for medical breakthroughs
Cost consideration for scale-up
Using Microfluidizer® processors in manufacturing for global commercial distribution